Meet the Team
At SwimLabs, we are dedicated professionals who are as passionate about competing and excelling in the sport we love as we are about passing on our knowledge to others. We are innovative and forward-thinking, using the latest in technology to push our sport forward, helping make swimmers of all levels more proficient and speeding up the learning curve.
Interested in joining our SwimLabs team? APPLY TODAY!
---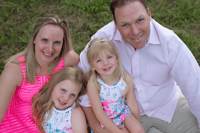 Leila and Shawn O'Brien - Owners
Leila and Shawn are Fort Mill residents who are parents of two wonderful daughters. They truly believe that that swimming is a life skill and have attended other swim schools where they have seen first-hand the benefits of these types of programs. Now they are excited to bring SafeSplash with its best-in-class learn to swim curriculum coupled with SwimLabs and its differentiated elite stroke analysis to Fort Mill.
They have always wanted to run their own business, but it needed to be one with a purpose and life meaning. In their minds, there is no better or more worthy one than the business of teaching children this most critical life skill: swimming!
---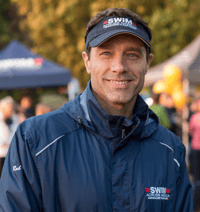 Rob Butcher - Owner
Rob fell in love with swimming in high school. He competed four years as a scholarship student-athlete for Georgia Southern University and qualified for the 2000 U.S. Olympic Trials. Rob is an active Masters swimmer enjoying the fitness and camaraderie of adult swimming. From 2008-2015, Rob was the CEO for U.S. Masters Swimming. USMS is the national membership association for adults swimmers and triathletes. While at USMS, Rob established USMS Masters Coach Certification, USMS Adult Learn-to-Swim Coach Certification and the Swimming Saves Lives Foundation which provides lessons for adults who wanted to learn to swim. In 2016, Rob was recruited to be the CEO of Swim Across America. SAA is a non-profit that hosts charity swims with the proceeds granted to fund cancer research. In three decades, SAA has funded nearly $100 million in cancer research grants. Rob is also on the board of directors (and board chair) for the National Swimming Pool Foundation which owns the Certified Pool Operator program. Rob brings a wealth of teaching and swimming knowledge to SafeSplash and SwimLabs. He is also a proud owner-partner in our location.
---
Jana Wormuth - General Manager
Jana is the General Manager here at SafeSplash/SwimLabs Fort Mill. As a child, she learned to swim at a local swimming pool and has many fond childhood memories thanks to safe swimming. She was born in upstate New York and grew up in Ohio. For the last 10 years, She worked as a civilian program manager at Wright-Patterson Air Force Base in Dayton, Ohio. Now living in Fort Mill, she enjoys every day, being a part of helping to educate and perfect swimming in people's lives.
---
Carly Munchel - Aquatics Director
Carly was born and raised in York, PA prior joining the University of Louisville's Swimming and Diving Team. She was the women's team captain her senior year and graduated with a Bachelor of Science in Health and Human Performance in 2014. Carly moved to Charlotte, NC in 2015 to be closer to family and further her education. She graduated from the University of North Carolina at Charlotte in May 2018 with a Masters degree in Clinical Exercise Physiology and her Registered Clinical Exercise Physiologist certification. She worked at Novant Health in Cardiopulmonary rehabilitation prior to joining the Safesplash + Swimlabs team.
Carly grew up trying a variety of sports from soccer to gymnastics, none of which came naturally. She attended a weekend swim clinic at the age of nine which proved challenging yet she was a natural. Following that weekend, she joined the competitive team and the rest was history. She was national champion in the 800 freestyle at Long Course YMCA Nationals and 1650 champion in the All-American Conference her senior year at Louisville. Since competing as a Louisville Cardinal, Carly has gained experience in teaching swim lessons to youth and adult beginners as well as stroke technique to competitive swimmers. Her passion and love for swimming is what drives her to be continually involved in the sport.