SawFish Swim Team

---
Sawfish Swim Team is Back!
This team is for kids want to be on a swim team or just love the sport of swimming. It's an introduction to how swim team works and for swimmers to get some mileage in the water before summer league! This is for SwimLabs swimmers who can swim a length of a 25-yard pool.
Program Details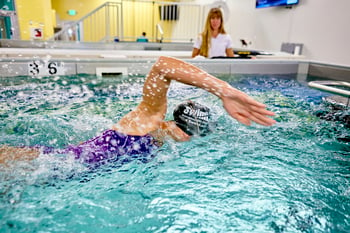 Who: Kids who LOVE to swim!
Where: Englewood Rec Center
1155 W Oxford Ave,
Englewood, CO 80110
When: September 14, 2018 - May 18, 2019
Fridays: 5:45 PM - 6:45 PM
Saturdays: 4:45 PM - 5:45 PM

Price: $82 per Month
Registration Fee: $20 per swimmer
*Payment will be taken monthly via auto pay, SwimLabs requires 30 days to cancel for the next month.
Bring you

r swimsuit, goggles, and towel.
Kids will be divided into different lanes based on ability.
There will be a zero tolerance policy on discipline; no horsing around. If a student is not complying with the coaches' wishes there will be one warning to the parents and then the student will be asked to leave the team – no money refunded.
*Pricing: $82 per month with a yearly registration fee of $20 per swimmer. By being a member of the team you are entitled to 20% off private lessons at SwimLabs ($56 - normally $70). The team is Auto-Pay only. There are no exceptions in price. You must fulfill your monthly commitment.
If Fridays and Saturdays don't work for your schedule, we also have a Monday and Wednesday afternoon option available. Click here for more information and to register!
Check out Sawfish Staff below!