SwimLabs MONTGOMERY COUNTY S
taff
At SwimLabs Montgomery County, we are dedicated professionals who are as passionate about competing and excelling in the sport we love as we are about passing on our knowledge to others. We are innovative and forward-thinking, using the latest in technology to push our sport forward, helping make swimmers of all levels more proficient and speeding up the learning curve.
Interested in joining our SwimLabs team? APPLY TODAY!
---
Denise Dombay - SwimLabs Montgomery County Owner and Coach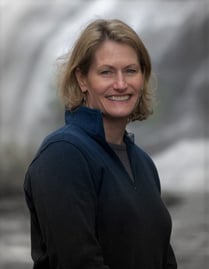 Denise started swimming almost before she could walk. Her mom was an instructor and coach at the local YMCA and Denise and her sister grew up around the pool—taking lessons, playing with friends, practicing with the swim team, and eventually lifeguarding, teaching, and coaching. She swam through college, graduating from The George Washington University (GWU) as a Division 1 athlete and budding accountant. After a long and successful corporate career in the DC area, and raising two amazing teens, Denise decided to return to her two loves—swimming and coaching. She still swims and regularly competes in Masters swim meets, holding several Top 10 times for her age group. She's a proud member of the Germantown Masters swim team, and she also participates in open water swims, including the Great Chesapeake Bay Swim. The June 2018 event will mark her 10th year of "crossing the Bay". Denise is still involved with GWU, as a member of the Business School Board of Advisors and as a member of the Athletic Advisory Council. She is also serves on the Board of the Capital Area Food Bank. Now she's hoping to share her passion for swimming with others!
---
Pam Ambrose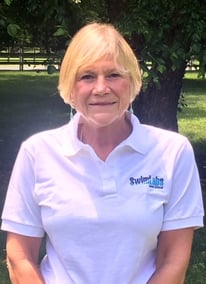 Pam Ambrose has been active in the aquatics industry for over 35 years. She spent almost 30 years with the award winning and nationally recognized Montgomery County Recreation/ Aquatics section. At Montgomery County Recreation, Ms. Ambrose administrated USA Swimming age group and Masters programs ( RMSC and ANCIENT MARINERS), Montgomery County Swim League teams, MCPS High School Swimming and Diving, Montgomery Dive Club, and USA Diving programs. She initiated most of the current competitive and developmental swim programming under the direction of past Aquatics Director Bill Bullough. She was a member of the MCSL Board for almost 20 years. Ms. Ambrose served as a facility director at the Germantown Indoor Swim Center at its opening, and the Kennedy -Shriver Aquatic Center in the beginning and later part of her County career.
Prior to working for Montgomery County, Ms Ambrose was the Head Women's Coach of Swimming and Diving at The George Washington University. During those years she coached both age-group and summer league in Montgomery County in addition to her University duties. Ms. Ambrose swam and coached both men and women at West Virginia University as an undergraduate and graduate student.
Ms Ambrose remains active in the swimming and youth sports communities. She is a Red Cross certified Lifeguard Training Instructor, Water Safety Instructor, and USA Swimming coach. In addition to coaching, she has served on committees for MCPS Swimming and Diving, Potomac Valley Swimming, Montgomery County Swim League, Linganore – Oakdale - Urbana Youth Athletic Association, and as Chairwoman of the Eastern Women's Swimming and Diving Association during her coaching years at GWU.