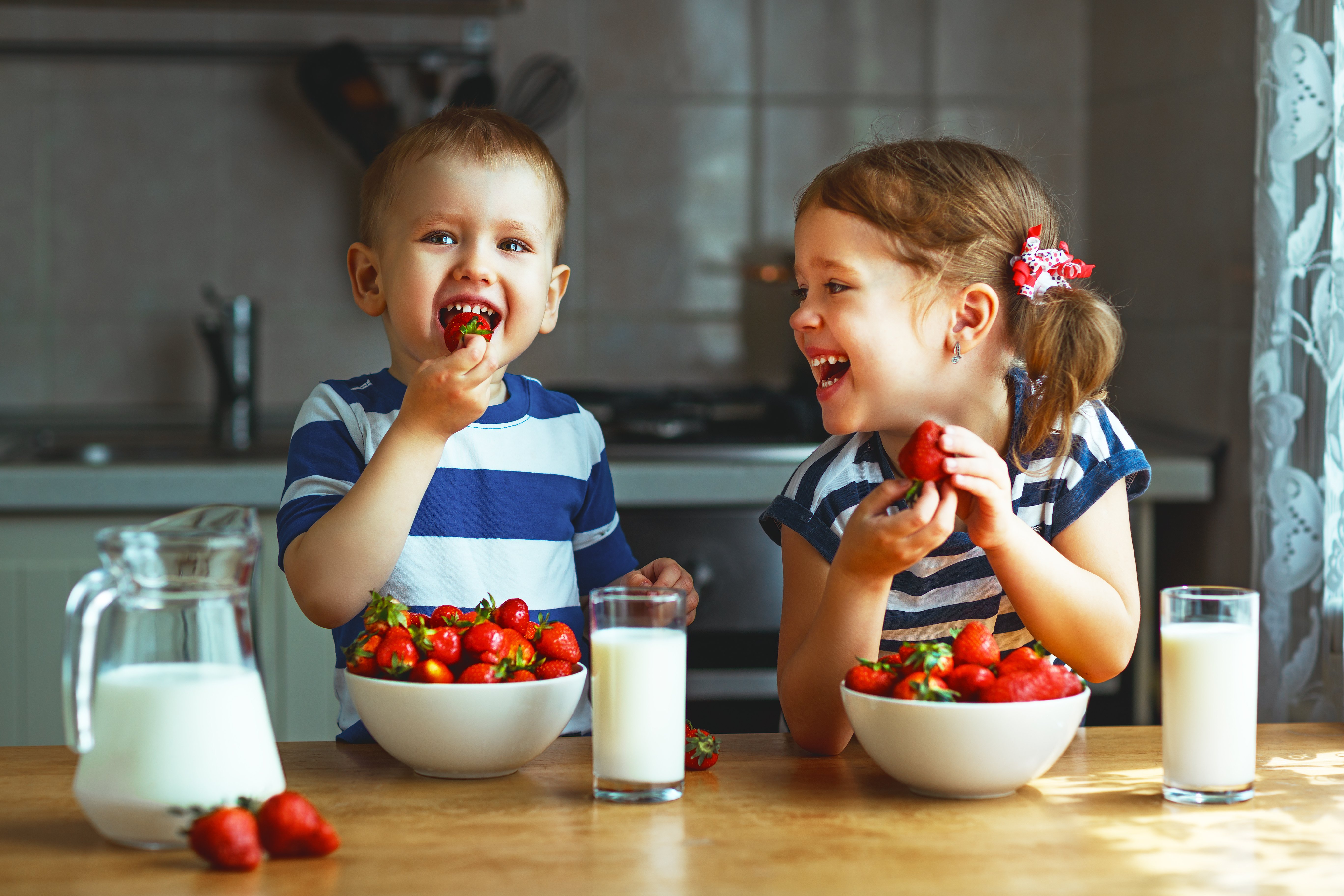 Heading to the beach with the kids or just want some tasty treats that are refreshing to eat on a hot summer's day? Avoid reaching for the usual snacking staples, like chips or ice cream. There are plenty of healthy protein snack options and healthy low carb snacks that even picky eaters can enjoy all summer. Try these delicious and nutritious snacks that are perfect for summer adventures or your next swim party.
1. Roasted Chickpeas
Roasted chickpeas have tons of flavor and a lot of crunch, but are a much healthier treat than salty chips or crackers. Still, this healthy protein snack will satisfy your savory cravings when you're ready to munch at the beach. And, this snack is mess-free and perfect for tiny fingers!
To make them, line a baking sheet with parchment paper and spread about two cups of cooked, drained, and dry chickpeas on the sheet. Drizzle the chickpeas with a little olive oil followed by a sprinkle of salt. Roast for 25-30 minutes in a 425 °F oven.
2. Low-Fat String Cheese
If you want to pack some healthy low carb snacks to take on your summer adventures, add string cheese to the list. Choose a low-fat variety to cut down on the typical fat content of cheese. One string cheese contains about 80 calories, 7 grams of protein, and no carbs. Just be sure to keep them cold with a cooler and ice pack if you're hitting the swimming pool or beach.
3. Greek Yogurt Peanut Butter Balls
Looking for a healthy protein snack the kids will love? In a food processor, combine 1 ½ cup oats, ¾ cup natural peanut butter, and ¼ cup nonfat Greek yogurt. Then, stir in two tablespoons of honey. You can also add some mini chocolate chips or almond slices for extra crunch and flavor. Roll them into small balls and refrigerate for at least an hour. Pack them in the cooler if you'll be outdoors.
4. Cocoa-Veggie Muffins
Bake some chocolate muffins mixed with disguised veggies! They're so tasty that your kids won't even know they're stuffed with carrots and spinach. Plus, they contain no sugar, and they're bite-sized and easy to pack. Try this recipe from The Natural Nurturer.
5. Strawberry Sorbet
Ice cream is a go-to summer treat, but it's also loaded with calories, fat, and sugar. To curb your ice cream cravings in a healthier way, try a strawberry sorbet instead. Make enough to serve four by blending three cups of frozen strawberries, ¾ cup of cold water, and one tablespoon of honey. Serve immediately.
6. Homemade Trail Mix
Trail mix is fun and easy for kids to make, and it's a convenient snack to bring with you while traveling or adventuring outside. Set up a spread of trail mix goodies, like granola, nuts, seeds, and raisins, and let the little ones make their own!
7. Ants On a Log
Another healthy protein snack option that's cool and refreshing in the summer is Ants On a Log, a classic snack that's an entertaining twist on celery and peanut butter. Spread some natural peanut butter on pieces of celery stalks and add a few raisins in the peanut butter. You can also swap out peanut butter for nonfat Greek yogurt or cottage cheese and add fresh berries or nuts instead of raisins.
Take Healthy Snacks with You on Your Summer Adventures
With the exception of strawberry sorbet (save this one when you want to cool off at home!), you can take each one of these snacks with you wherever you go this summer. Pack an insulated bag with an ice pack and load it up with anything that needs to stay cool to have healthy snacks ready for the kids to grab. Have fun!