Competitive Lessons at SwimLabs
The better you can see your stroke, the faster you can improve it.
From youth competitive swimmers to master swimmers, we know every second you can shave off your time counts. That's why our unique and innovative facilities are dedicated to using the same techniques and technologies Olympic swimmers use to improve times and gain a competitive edge.
We help you look at your stroke from all angles.
You get plenty of training time swimming laps in a large pool but SwimLabs adds another dimension to your training. Here, you'll benefit from video technology that provides instant video feedback. In addition, mirrors on the bottom of the pool let you view your stroke from below, helping you and your instructor analyze and adapt the most proficient techniques. These visual tools make swimmers and instructors partners in seeing how to adjust strokes to perfect your techniques and achieve optimum performance.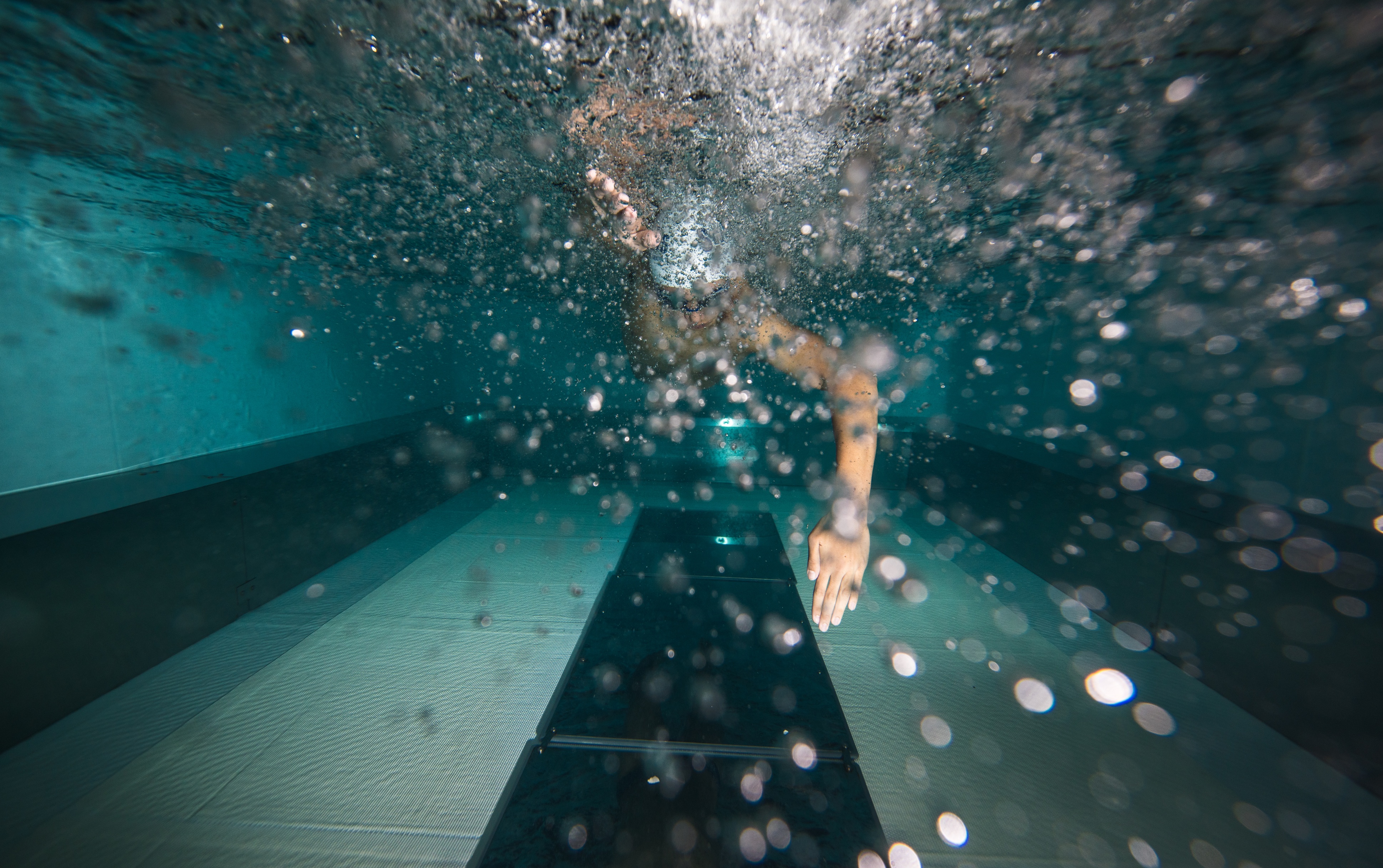 Small pools, big attention to detail.
Our small, warm water pools mean customized attention for your entire session. This highly individualized training allows you to apply what you learn immediately to hone your technique and perfect your stroke.
---
PRIVATE AND SEMI-PRIVATE LESSONS
How Does it Work?
At your SwimLabs session, our experienced instructors will discuss your swimming history and goals. You will then swim in our constant current SwimLabs pool. As you swim, your instructor will use various cameras above and in the water to capture a 360-degree view of your stroke. With the footage of your swim, they will analyze your stroke using the unique SwimLabs video library, which houses footage of world-class and Olympic swimmers illustrating the skills and technique necessary to be a great swimmer. They will place your stroke side-by-side some of the best in the world and will run you through drills that you can use during your outside practice. At the end of your session, your instructor will email you the video captured during your session along with notes, drill videos and example videos.
SwimLabs offers private and semi-private lessons for summer league swimmers, club swimmers, age group swimmers, competitive swimmers, masters swimmers, fitness swimmers and more!
---
STARTS AND TURNS CLINICS
SwimLabs coaches know that proper stroke technique is only one way to become a faster swimmer. Whether you're swimming distance freestyle or a 50-yard butterfly, the start and the turn are key points in everyone's race. SwimLabs hosts starts and turns clinics at local pools in the area.
Starts & Turns Beginner/Novice
This clinic is for kids that are thinking about doing Summer League swim team/swimming more competitively. This could mean that the swimmer has never performed a start or a turn before and would like to learn, or that your swimmer has familiarity with them but is not comfortable executing them. The coach will be in the water performing the skills and helping the swimmers hands on.
Starts & Turns Summer League
This clinic is for kids who are at the Summer League and/or beginner competitive/year-round swim team level. The kids in this clinic are familiar with starts and turns, know how to perform them, but the execution needs work. The swimmers in this clinic will already have knowledge of each turn. The coach will be in the water performing the skills and helping the swimmers hands on.
Starts & Turns Advanced
This clinic is for kids who have swam competitively, year-round, for 3 years or more. The swimmers in this clinic have had extensive training in starts and turns and need fine tuning with their technique to shave a small number of seconds off of their events.
*Check with your local SwimLabs location about their starts and turns clinics programs.
---
TEAM NIGHTS
Team nights provide each swimmer with 20 minutes of instruction and video analysis of the stroke of their choice. SwimLabs instructors will be facilitating lessons but we value and encourage coaches input and active participation. At the end of their session, the swimmer will receive their video analysis via email through SwimLabsTV. Please contact you local SwimLabs to set up a team night for your team.