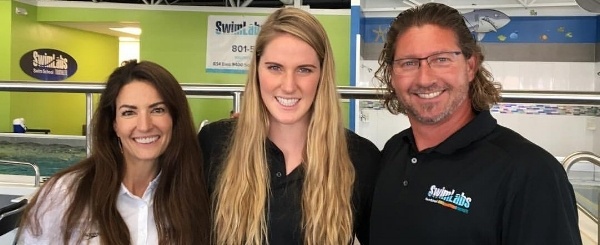 TRIATHLETES – ENTER OUR I SWIM BECAUSE CONTEST & SWIM WITH MISSY FRANKLIN!
Triathletes – it's your turn! Why do you get up for those early morning masters classes and put the extra laps in the pool? You have until May 31 to enter the I Swim Because Facebook Contest and help us win a visit to SwimLabs Utah by 5-time Olympic Gold Medalist Missy Franklin!
To enter the I Swim Because Contest, post a picture or video to our SwimLabs Utah Facebook Page by May 31, telling us why you swim! The SwimLabs Swim School location with the most Facebook likes and comments will win the visit from Missy.
Should SwimLabs Utah be the lucky swim school that wins a visit by Missy, one triathlete with the most likes and comments on their post will receive a one-on-one lesson with Missy!
Contest Rules:
Step 1: Take a picture or create a video describing the reason why you swim
Step 2: Post it to our SwimLabs Utah Facebook page with #SwimWithMissy and #SwimLabs. Don't forget to like our page to get exclusive updates throughout the year!
Step 3: Help SwimLabs Utah win by having your friends and family like your post and comment on your picture or video!
*Swimmers 13 years and older are eligible and parents may enter each child in the family into the contest. For a complete list of contest rules and regulations, click here.
Missy Franklin began her swimming career with swim lessons at just six months old, in part due her mother's own fear of water. After a successful club and high school career, Franklin went on to compete in the 2012 London Summer Olympics, where she won five medals (four gold and one bronze). In the 2016 Rio Olympic Games, Missy Franklin rounded out her medal count with an additional gold medal in the 4 x 200 freestyle relay. She continues to hold the world record in both the 200-meter backstroke and 4 x 100-meter medley relay.
As a partner and ambassador to the SwimLabs team, Missy Franklin has been instrumental in initiating new ways to communicate and teach skill and technique to swimmers of all ages.