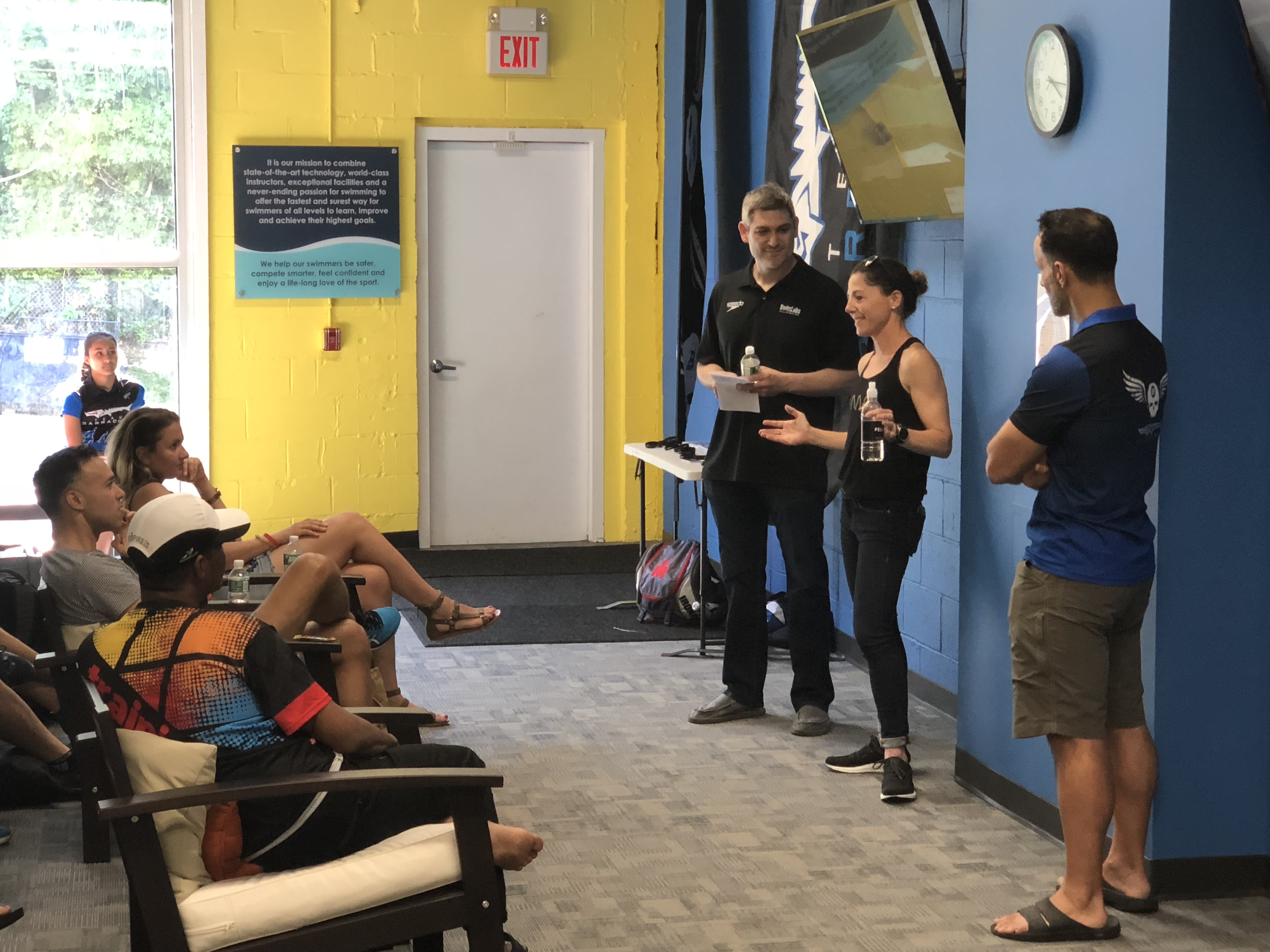 SwimLabs Westchester (Elmsford, NY) hosted an IRONMAN + SwimLabs Event on June 16, 2018, with professional triathlete Laurel Wassner and local triathlon coach Jeff Boyer. Wassner is a survivor of Hodgkin's Lymphoma and is the first cancer survivor to become a professional triathlete. She won her first pro race in a breakthrough performance in 2010 at the Columbia Triathlon and has since finished ten IRONMAN triathlons and competed at the IRONMAN World Championships in Kona, Hawaii, in 2015 and 2016.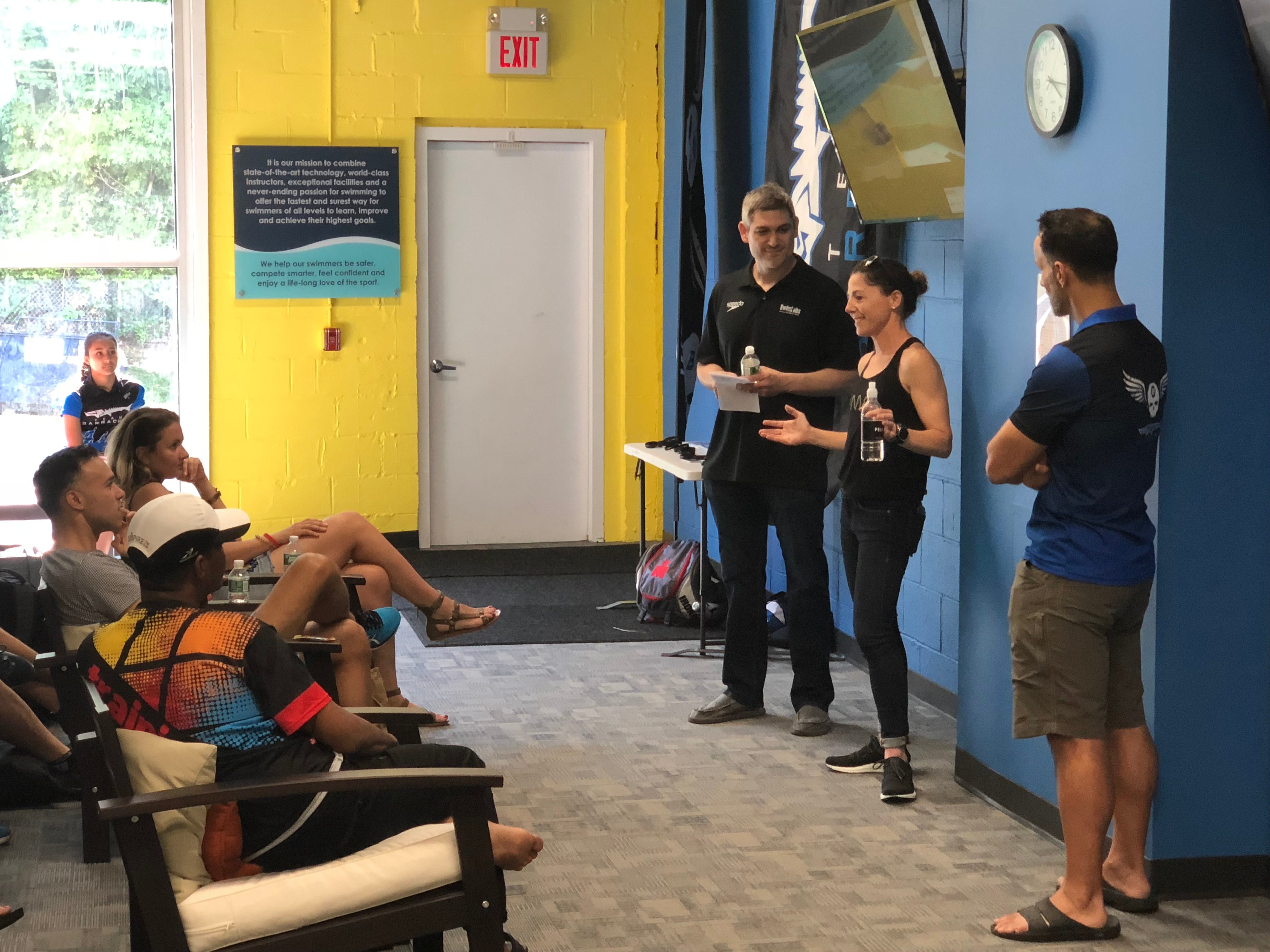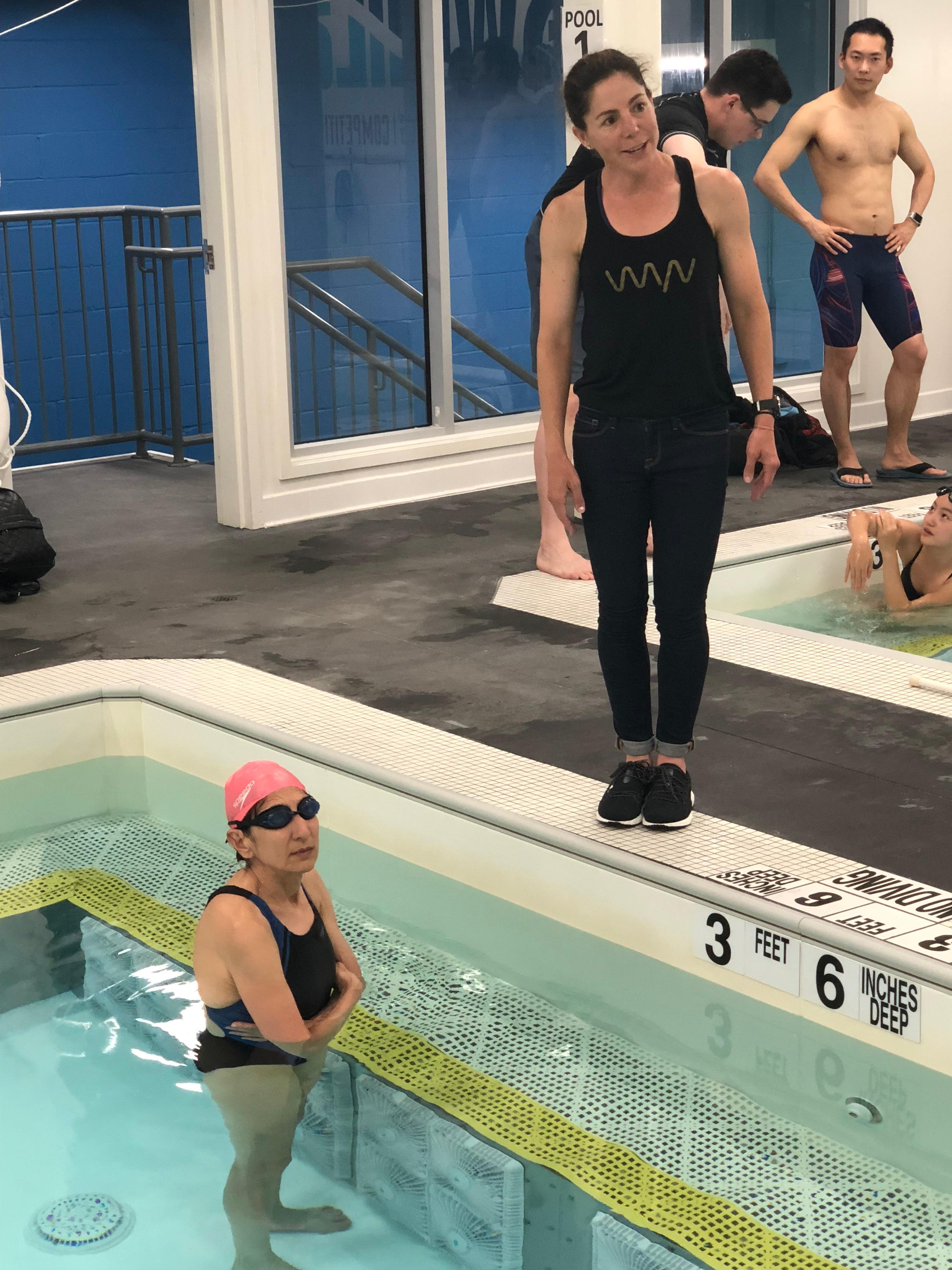 Wassner discussed the importance of swim technique when training for the swim portion of a triathlon, and answered questions from the audience of about forty triathletes ranging in ability from beginners to IRONMAN finishers. The presentation focused on several key topics:
Staying with the pack and drafting properly. Wassner noted that drafting is the best way to save energy on the swim. You don't want to be too close to the swimmer in front of you (i.e. touching their feet), but staying with the pack helps with sighting as well as drafting and can help a swimmer to stay on course.
When and how to pass. Wassner said that to pass, you have to be ready for the extra effort. You will swim harder because you are both losing drafting efficiency and increasing speed to go around another swimmer. A good time to pass might be when you are continually bumping into the feet of the swimmer in front of you.
When to breathe. Wassner recommends breathing every three strokes in a bilateral pattern.
How to keep the swim line in sight. She also sights the line every three strokes, on the breath.
How to deal with rough competitors. Wassner noted that thrown elbows, feet and knees are part of the nature of the sport and that each swimmer needs to maintain focus on their own efforts. Do not be thrown off or distracted by the jostling, keep calm and stay steady.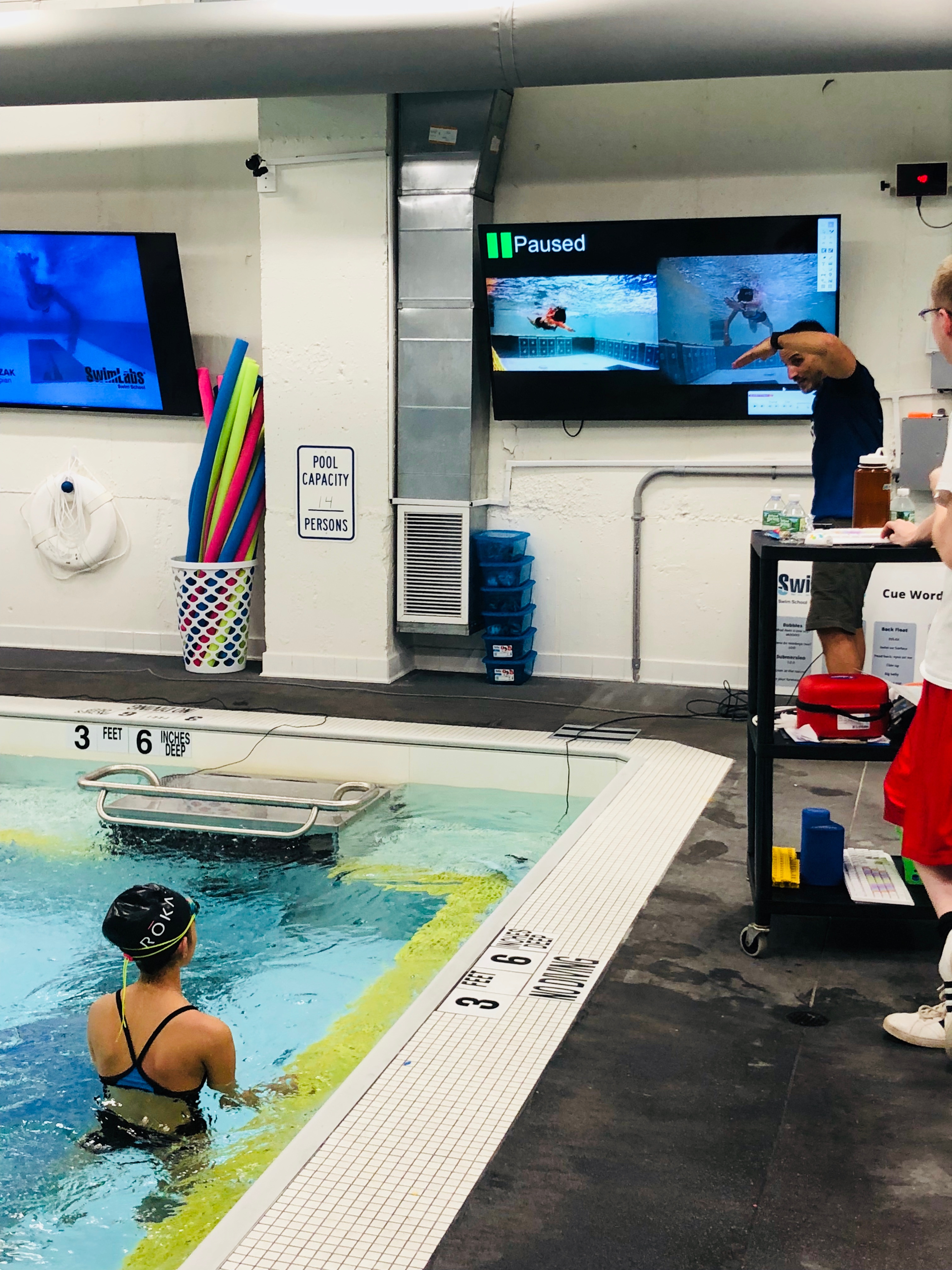 After Wassner's presentation, she, Jeff Boyer, Emily Escobedo (Elite SwimLabs Westchester instructor and member of the U.S. Women's Swimming National Team), and Joe Eiden (SwimLabs Westchester Aquatic Manager and IRONMAN coach) provided free fifteen-minute lessons, with underwater video analysis, to each triathlete in attendance. Each athlete received an in-water demonstration of the video analysis technology at SwimLabs Westchester using the video feedback from the underwater cameras to see where they could improve their technique. The coaches provided expert analysis and gave each swimmer several chances to put their new knowledge into practice.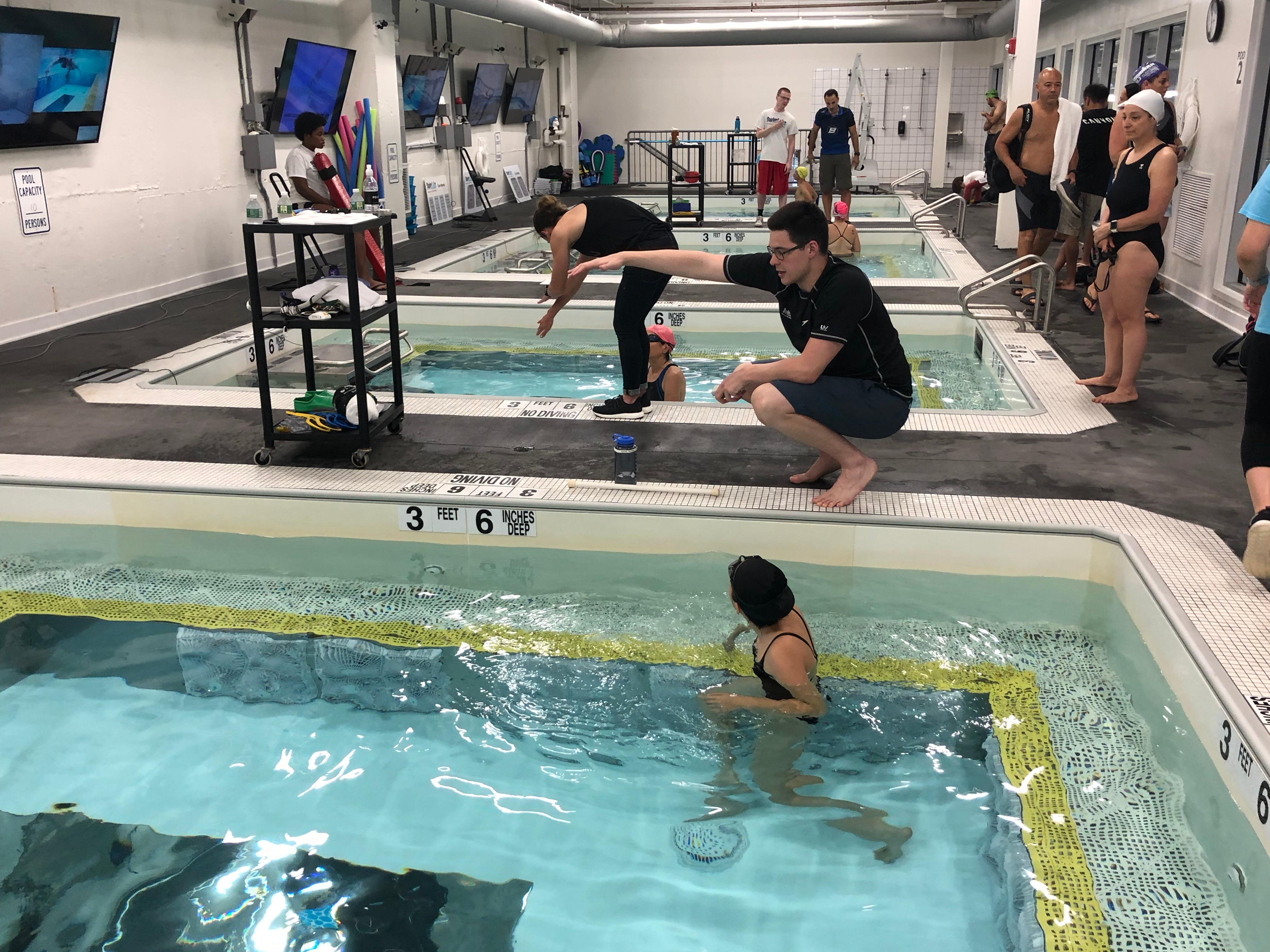 Rodney Weinstein, CEO of SwimLabs Westchester, noted that "We were thrilled to see how much value the triathlete community received from the clinic. Laurel gave them excellent direction about how to prepare for, and swim, an excellent race. Our experienced instructors showed them the power of underwater video, which clearly illustrates improper technique as well as how to improve for their next big race. We are very excited about the IRONMAN – SwimLabs partnership."