triathlete Lessons at SwimLabs
Don't let the swim portion of a triathlon slow you down. Now there's a way to efficiently and effectively train for your swim.
SwimLabs offers triathletes a personalized, high-tech way to improve technique and gain speed and confidence. Whether you have been a competitive swimmer, want to bump up your skills, or you are a beginner wanting to learn how to improve your swim for your first triathlon, SwimLabs training will get you ahead of the pack.
Our small pools get you ready for the big event.
At SwimLabs, training takes place in small, indoor, warm-water pools that can be adjusted to mimic the feel of an open water swim. Here, we can slow down your training in order to help you learn how to speed up your swim. SwimLabs pools are equipped with a 360° video system and three in-pool mirrors, so you and your instructor can see your stroke from all angles. Our advanced video software lets us analyze your stroke and provides immediate feedback, helping you adjust instantly. We use a unique, extensive library of video of world-class and Olympic swimmers for side-by-side comparison. After your session, you'll receive an email of your session with the notes from your instructor, sample videos, and drills you can use to practice for your event.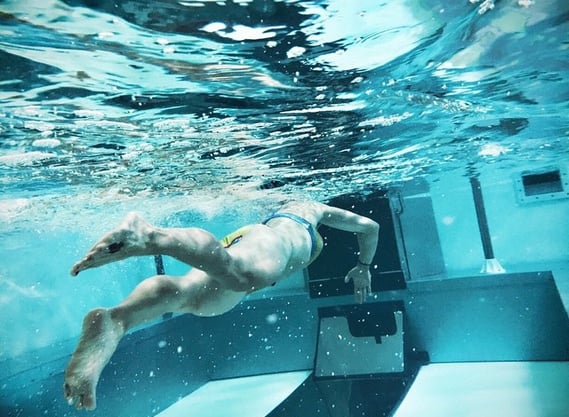 "Get consistent stroke feedback. This is the only way to find and maintain a good stroke. Going by feel just doesn't cut it in the pool." — Triathlete Magazine
---
PRIVATE AND SEMI-PRIVATE LESSONS
At SwimLabs, we offer private and semi-private lessons for triathletes. Check with your local SwimLabs location for additonal offerings such as open water swimming.
---
TEAM NIGHTS
Team nights provide each triathlete with 20 minutes of instruction and video analysis of their freestyle. SwimLabs instructors will be facilitating lessons but we value and encourage coaches input and active participation. At the end of their session, the triathlete will receive their video analysis via email. SwimLabs is also able to host triathlon club meetings, open water swimming/nutrition seminars, event packet-up, and more! Please contact you local SwimLabs to set up an event for your team.