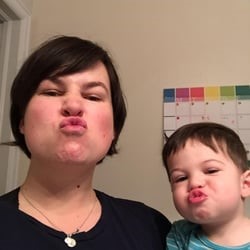 You might not notice the unassuming storefront nestled next to Petsmart, you might look at the 'Swimlabs' sign and wonder how something related to swimming could be in the deceptively narrow space. I'm here to tell you that this place is simply outstanding at what they do: teaching swimming at all levels.
Better Value and a More Lasting Positive Experience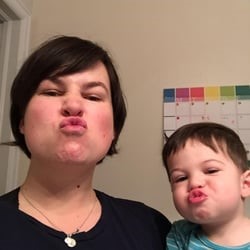 My son had a bad recreation center swim class experience and was scared of water to the point of nightmares. A friend recommended SwimLabs and specifically this location. I called in and was met with the friendly and sympathetic voice of Abby, who listened to our situation and made some great suggestions on group classes. Knowing how anxious my son was at the time, I opted to do some private lessons to get us comfortable.

As soon as we arrived at SwimLabs, my son asked me to ensure Jena (my hero and his instructor) to promise not to dunk him under the water. He was truly terrified. Her perfect answer set the tone and trust for the experience beautifully. 'I need you to promise me that you will be very brave, and I promise you that I will always be honest about what we are going to do.' My pragmatic boy nodded, this was logical and he felt safe. The deal was sealed. Within 15 minutes, Jena had my son calmly gliding, submerged face down, across the water looking for toys on the bottom of the pool. He happily went under the water with her and left relaxed and very pleased with himself at the end of the 30-minute session. The boy that would not get his face wet in the shower after his recreation center scare was now almost defiantly standing with his face to the shower stream saying, 'Jena told me that water doesn't hurt your eyes. It's safe to splash on your face.' This was our experience AFTER ONLY 30 minutes at Swimlabs. Today, for his second session, he was able to glide across the width of the pool, head fully submerged, kicking and most of all - calm. Jena has some magic, and the methods employed here to help kids feel safe are perfect. My son has gone from terrified to proud of himself and confident in his ability to learn to swim. I feel great about him becoming more water-safe.

SwimLabs has 3 small pools with under and above water cameras with delayed replay so that swimmers can watch their progress as they learn. The pools have a bench around the perimeter, which helped my son feel safe. There is a current that creates resistance (or fun if you're 5) and a bar to hold on for practicing strokes. The whole facility is very clean, with plenty of changing rooms and showers. There's a big waiting room where parents can sit and watch their kiddo both through massive picture windows and TV monitors (one per pool). The waiting room is also thoughtfully set up for children with a coloring table, some toys, reward stickers and the best - lollipops!!

While you will pay more for swim lessons here than you would at a recreation center, I think you'll see that dollar for dollar, you'll get better value and a more lasting positive experience here.