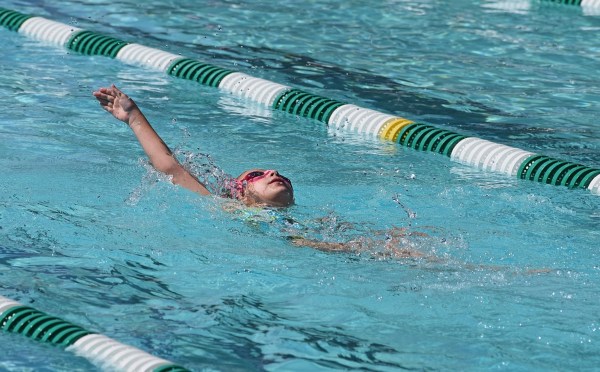 Swimming is a life skill but I found out swimmers, and parents, can learn much more during swimming lessons than just how to swim!
As a parent, I am often pleasantly surprised at how much I learn from my kids as they journey through life. It is a rewarding, messy, heartwarming, exciting, exhausting, wild ride! And sometimes it is all of those in one day.
The Ups and Downs of Swimming Lessons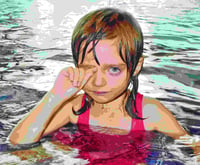 My daughter, Lexy, started swim lessons when she was about 4 years old. We arrived at our first swim lesson expecting our daughter to love it. It didn't exactly work out that way. She shivered, cried, clung to me and lasted about 6 minutes in the pool. The next week, she got in the pool but refused to put her face in the water and she cried for the majority of the 30-minute lesson. This went on for several weeks. I can't remember how long it took before she made it through a lesson, but it felt like an eternity when it was happening. I actually worried she might never learn to swim.
I endured a few more lessons and her swim instructor was experienced enough to handle the ups and downs (turns out that I am not the only parent to experience this trauma). I don't recall every class after the crying ended, but I clearly remember when I watched her swim across the length of the pool with an impressive freestyle stroke. My heart soared, I captured every second on my phone and posted it immediately on Facebook. Lexy progressed through freestyle, backstroke, butterfly, and breaststroke. She didn't just like to swim, she loved it. Swimming lessons brought confidence, calm, and coordination to a kid who was afraid to put her face in the water. We continued swim lessons long after they were "necessary" and she seemed to enjoy it, but my focus remained on her becoming a proficient swimmer.
From Fearful to Focused!

Lexy has grown up a lot since those early swim lessons and we even laugh about how difficult it was for me! Her experiences and challenges are different these days. I can see when she feels the stress and worry that comes with friends, school, and multiple activities. The expectations these days are high and it seems like a lot to handle for young kids. One evening this past summer, I realized that I had missed something important that she gained from learning to swim. It was a beautiful Colorado evening and we decided to head up to our neighborhood pool to let the kids play with their friends and blow off some steam. Instead of joining the rowdy group of neighborhood kids, Lexy walked to the lap lanes, dove in and swam multiple laps. I was distracted with our younger daughter and barely noticed. I found my way to the end of the pool where she was swimming and watched her. It wasn't the first time she had chosen laps over playing with the other kids, but I knew how she had been feeling just a few minutes earlier and every lap felt like a release. It was graceful, beautiful and it caused me to pause. When she stopped at the end of the pool, I simply said, "How are you feeling"? She looked up, smiled and said, "It is so quiet under the water, so calm, it makes me feel good". I always knew swimming was a critical life skill, but it turns out that for my daughter it wasn't just about preventing her from drowning. It had become a valuable tool for managing the stresses and difficulties that happen throughout life. What a tremendous life skill!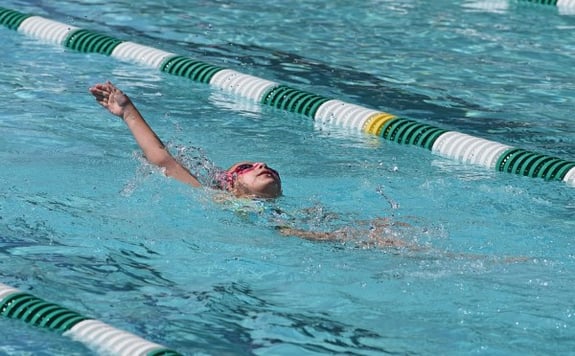 What I've Learned About Swimming Lessons
I am thankful for the journey and we also learned a few more practical things along the way:
• Seek Engaged Instructors: Find a swim school where the instructors love to teach swimming. A highly engaged instructor is willing to adjust their class and teaching style to meet the needs of the learner making every lesson more effective.


• Ask about Ongoing Training: Ask about the initial training provided to instructors and how they invest in the continued development of their instructors. Instructors who receive ongoing training provide a better experience for every swimmer. You will notice your child doing different drills, games, and working on specific techniques each week. You should observe the instructors demonstrating these skills since actions often teach better than words.


• Focus on Proper Skill Progression: Watch to see if the instructor is teaching a progression of skills. Each skill provides the repetition and building blocks which lead to proper stroke techniques. Your swim school should never rush kids along to the next level until they have mastered the necessary skills for each level which ensures swimmers have a strong base to build upon.


• Provide the Best Environment for Learning: We know kids AND adults learn best when they are able to focus on the task at hand. If the water is freezing, the class is too big, or the instructor is different each week- kids will struggle to focus and learn. At SwimLabs, we have warm water pools, a maximum of 4 students per class, and we work hard to ensure consistency in instructors. When the swimmer can focus and are comfortable, they learn the skills faster and they learn to swim faster.


• Consider a more interesting goal: Adults have a tendency to make learning boring by focusing on an outcome that kids can't easily imagine, and the process becomes drudgery. Learning to swim should be fun, engaging and exciting! Both of my kids especially liked pretending to be a mermaid when they learned the leg movement for butterfly. Their instructors used examples of movements that motivated them during lessons and the girls practiced for hours to get their mermaid legs correct.


• Be patient and enjoy the little wins: Probably the best advice for parents on a daily basis (someone please send this to me when my daughter turns 13). Learning to swim is a pretty complex set movements, but the strength, coordination, and life skills your child gains are worth the effort!
Heather Haugen is the owner of SwimLabs Littleton. She is passionate about education, serving clients, and developing leaders in small businesses. She has two girls who both swim at SwimLabs!
If you wanted to learn more about lessons at SwimLabs Littleton, or a SwimLabs near you, please contact us! We'd be happy to answer your questions and help find a program that is right for you and your goals!