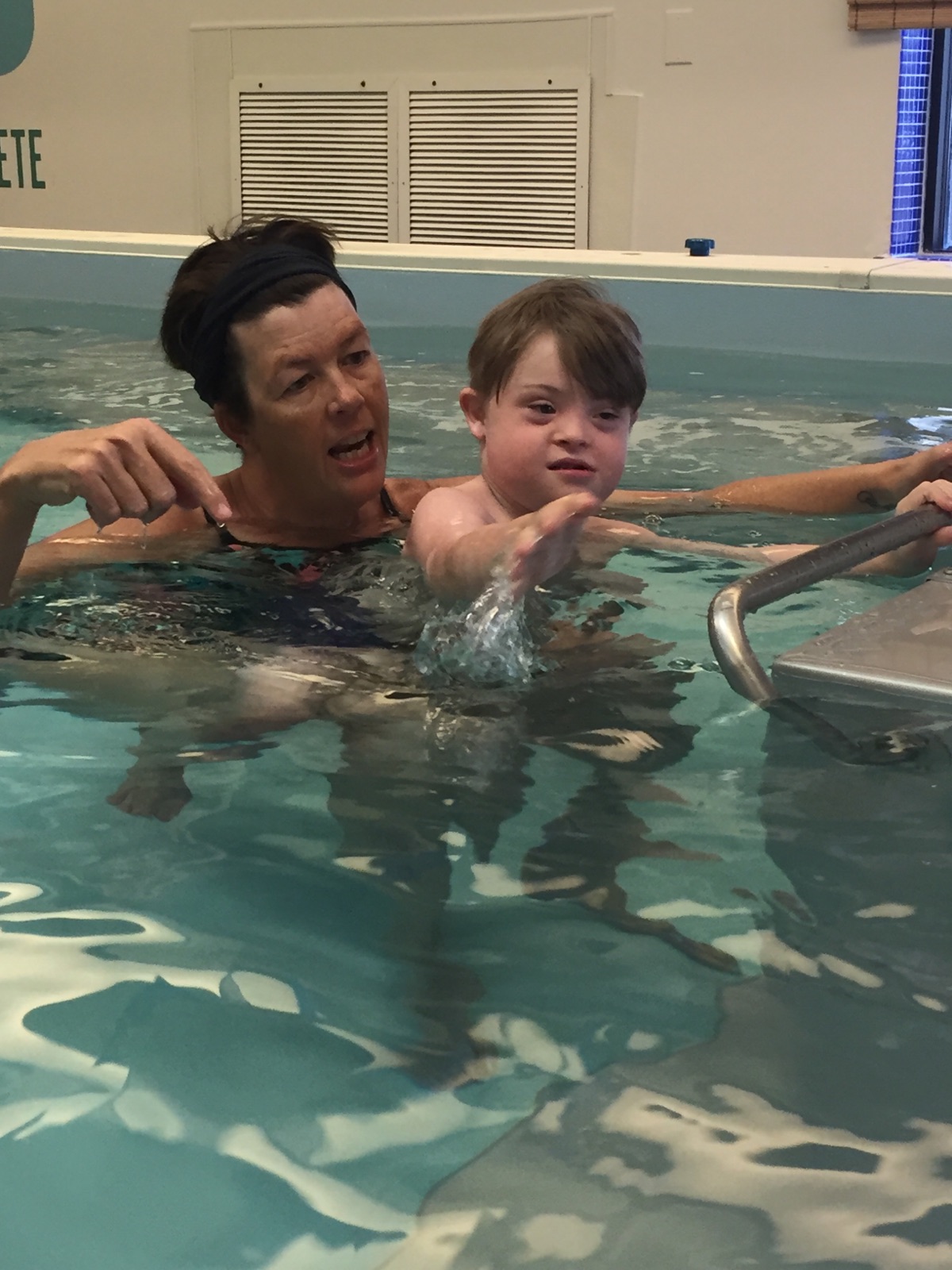 On August 16th, 2017, I interviewed SwimLabs team member Meg Perron who developed The SwimLabs Special Needs Program and Heather Rodriguez, instructor, who teaches in the program.
Hello all! Thank you for meeting with me. Programs like these are so important for individuals and families in need but also for future education and empowerment of typical and special individuals alike.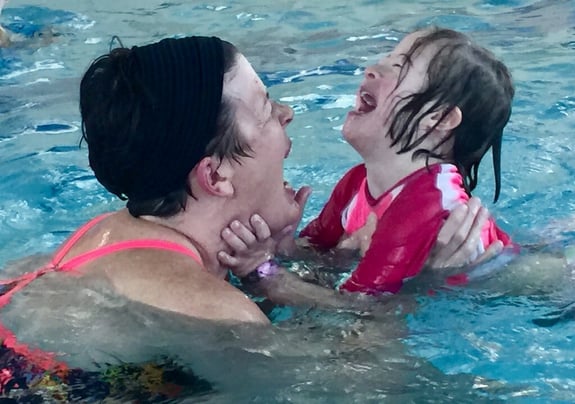 Heather and a young special Olympian laugh while training
Can you tell us a little about the program itself?
Meg Perron:
The SwimLabs Special Needs Program is a program we've developed specifically to serve individuals with special needs. We work with individuals with a wide variety of disabilities, from swimmers with autism, to down syndrome, to cerebral palsy, to paraplegics, to chronic seizure disorders, and many more! I developed this program in the fall of 2015. Our first location, SwimLabs Highlands Ranch, partnered with a program, Developmental Pathways, that helps fund swim lessons for individuals with developmental disabilities about eight years ago. I had been instructing and teaching many swimmers with special needs and saw a need to train our instructors specifically to work with these individuals. The program is designed to teach our instructors about different kinds of special needs, best teaching practices for different special needs, and help structure the lesson to improve the swimmer's experience and overall give our instructors more knowledge and confidence going into their lessons for swimmers with special needs. Most of our locations offer this program.
---
As a test of water safety, endurance, and proper stroke technique,
SwimLabs introduces the 100 Stroke Club.
---

Why are these lessons important? How are they different from typical lessons?
Meg Perron:
These lessons are different from our other private lessons because they offer a different structure from our regular lesson structure. One of our programs, for individuals with cognitive disabilities, we use a station system that acts as a visual schedule. We offer another structure for individuals who are looking to come for more therapeutic purposes. Individuals with physical disabilities simply follow our regular lesson structure with some modifications.
Regardless of the need of the swimmer, I truly believe SwimLabs pools are the best place for individuals with special needs (and everyone...really!) because the pools are small and warm. Since the swimmer will be in the pool one-on-one with the instructor, they won't experience near as many distractions as they would sharing a pool with other swimmers. The warm water allows swimmers to be comfortable, which is very important when it comes to a sensitivity to sensory stimulation. They are shallow, and safe, for swimmers, too.
Swimmers with special needs retain their skills just like everyone else - with practice! Depending on the special need, sometimes it takes longer to gain retention. However, we truly believe individuals who are coming to swim with us to learn swimming and safety skills can learn the skills they need to be safe. We do everything we can to get them there, and implementing this program is just one piece of that!
Individuals sign up simply by calling or emailing our locations to inquire. A Client Services Representative will go over how the program works, pricing options, etc. They then will be sent a Special Needs Questionnaire. While filling this out and submitting is optional, we want to know as much as we can about your swimmer, and getting some information prior to your first visit is a huge help for us and for your swimmer. The instructor will review the questionnaire and the parent will be encouraged to walk into the poolroom for their first visit so that they can provide any additional information and the instructor can ask follow-up questions.
Some locations partner with organizations that help fund the swim lessons (and other services, too!). Supporting organizations like these, such as Developmental Pathways for the Highlands Ranch location, helps support our program. Sometimes our locations will put on fund raisers to help support these programs, too! For example, SwimLabs Highlands Ranch did a fundraiser and the staff member who raised the most money got a pie in the face...see it here!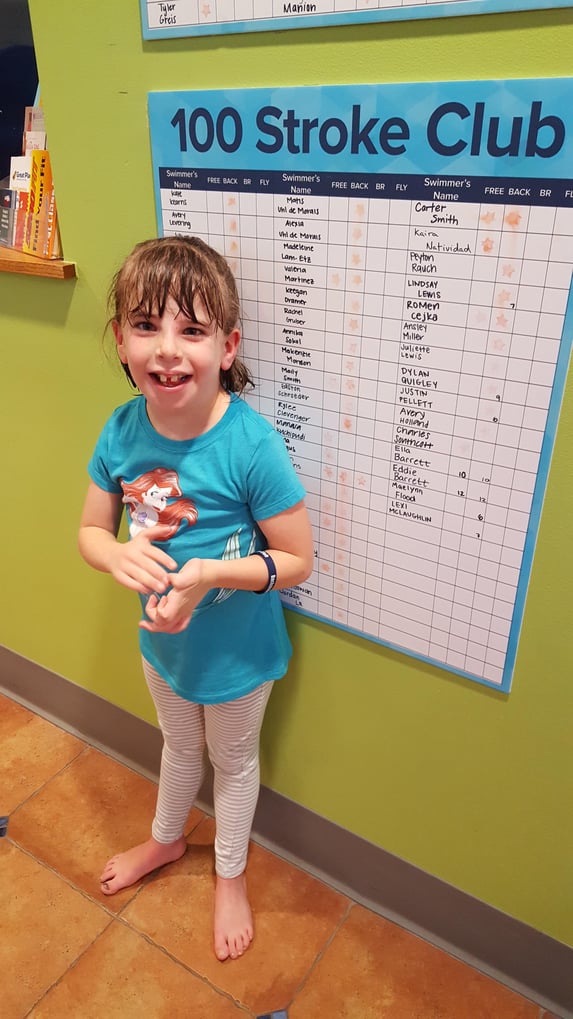 Another swimmer joining the 100 strokes club!
---
Our unique facility creates the perfect environment for new swimmers and competitive swimmers to swim safer, stronger and smarter...faster!
---
What's one of your favorite success stories?
Meg Perron:
One of my favorite success stories is with one of the swimmers I've worked with for two and a half years. He really motivated me to develop the program, even though he doesn't know it :) He started with SwimLabs four years ago, and couldn't stand the sound of our pool currents. We would stay open an extra half hour for his lesson so there would be no pool currents on to improve his experience. By the time he started swimming with me, he was just fine with the sound from the current, but still at the beginning of his development of swimming skills. Within a few months, he could perform freestyle arms on our stationary bar, kick on his back independently, and wear goggles (he used to hate them!). Now, he swims freestyle correctly: getting his arms reaching up, pulling all the way back, and reaching forward. He has a ways to go, but I am SO proud of him. I look forward to my time with him each week, and I have loved seeing him grow both in and out of the pool!
There are far more success stories, but that one is special to me. We have swimmers who started coming for lessons with us to learn swimming and safety skills, and eventually joined a swim team and continue to come to us to work on strokes. We have worked with a swimmer with no legs, and she is a rockstar butterfly-er! We have swimmers who come simply for pleasure, and float around in the current, play with our instructors, and stretch their muscles, and have the biggest smile on their face every lesson. That is just as big of a success story as making the 100 stroke club in my opinion! These lessons have been some of my favorite lessons and have made a huge impact on my life.
Our special needs lessons teach our instructors about working with people who are different from them. Working with swimmers with special needs forces us to think outside of the box, learn how to meet the many different needs of individuals, and not just swimmers with special needs. It teaches us to be patient with all of our swimmers and find different teaching methods that work for any swimmer. Ultimately, I truly believe teaching swimmers with special needs helps enhance all of our lessons. Our instructors love teaching swimmers with special needs, and often leads to amazing relationships between our clients and staff.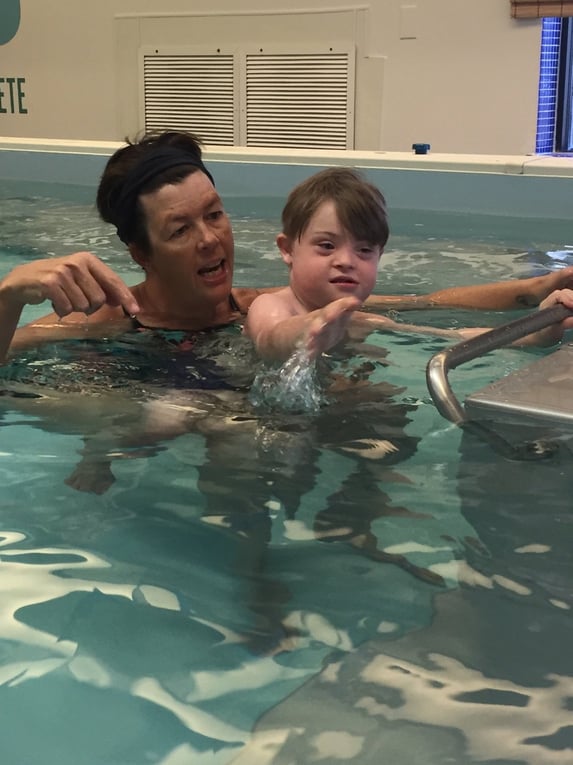 A dedicated athelete trains with Heather Rodriguez

What are some aspects that people may not know about in regards to these lessons?
Meg Perron:
First, people may not know that a program like this is available. We do not just tell our staff that we teach these lessons and leave them to figure out best teaching methods on their own. We have special tools for these lessons, and a lot of time goes into educating our staff, and it doesn't end! We have held seminars to continue our education on working with swimmers with special needs. Our instructors are also always trying to find the best way to work with a swimmer, so our trainers help our instructors come up with the best plan regularly. A lot of time and research went in to developing this program, including meeting with individuals from Rocky Mountain Down Syndrome Association, Rocky Mountain Autism Center, talking with Karen Gaffney and her family, and more. And lastly, people may not know that we don't just offer this program...we LOVE working with individuals with special needs and sharing our love for the water with them!
This is an amazing program and there is so much more to learn!!! There are more pieces to this puzzle to be interviewed so stay tuned!!
If you are interested in SwimLabs Swim Lessons or the Special Needs Program please reach out to your local SwimLabs. We will be glad to help!